DWGSee 2018
Tweet
Price

Free

Version
2018
Release Date
June 12, 2018
Category
Graphic Design Software
Subcategory
CAD Software
Operating Systems
Windows XP, Windows 7, Windows 8, Windows 8.1, Windows 10
Publisher

DWGSee.com

http://dwgsee.com

Publisher's Description

DWGSee is a light and fast viewer, designed to browse, view, measure and print DWG/DXF/DWF files. Supports latest AutoCAD 2018 Version drawing.

DWGSee features

Drawing viewer program

DWGSee could be your best solution to view, measure, prints an AutoCAD drawing file, this program is designed as a simple but professional dwg viewer, super-fast and no drafter skills requested at all.

Supported file formats: AutoCAD® R9 - 2018 DWG/DXF/DWF files, file size is unlimited

Printing functions: Allows print preview, windowed print of cropped selection, pen settings…

Batch print: efficiently print out a drawing with multiple layouts, or more than one drawing files

Engineering helper

Measure: Length, angle, radius, area, click and get measured values.

With Smart-snap, you can easily and accurately click to select entities terminal, central or cross junctions.

Drafter's handy tool

Compare drawing, highlights different between drawing revisions. Such as entities removed, added, modified.

Search and find a drawing with attribute value, locate the very file within a file folder, or your entire hard drive, then open it with DWGSee or AutoCAD

Collaboration tool

Annotate to drawing with text, free draw, ellipse, call out... such markup options will retain drawing no change but store as overlay file, file extension name is.mrk, you can apply different.mrk file to the same drawing.

File publishing tool (Pro only)

This is a feature of DWGSee Pro, it allows you to convert and publish DWG to into PDF, JPG, PNG... Especially useful if you've made annotation to drawing. And, you can use clipboard to copy part of drawing and then paste it to Word, PPT or similar program to make an illustration graphic – it is vector stored and appears crystal clear in your article.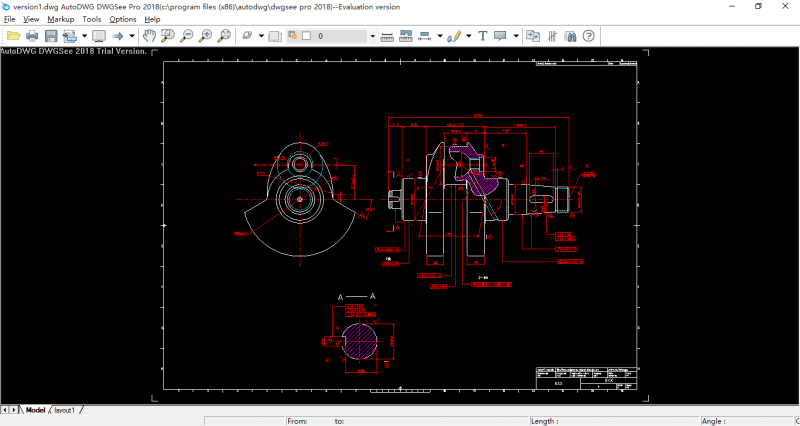 Tweet
Related Softwares