MiniTool Partition Recovery
Tweet
Price

Free

Category
Utilities
Subcategory
System Utilities
Operating Systems
Windows XP, Windows Vista, Windows 7, Windows 8
Publisher

MiniTool

http://minitool.com

Publisher's Description

MiniTool Partition Recovery is able to retrieve and recover lost partitions from IDE disk, SATA disk, SCSI disk, mobile hard disk, and other types of disk. Moreover, the free partition recovery software supports different kinds of file systems, including FAT12, FAT16, FAT32, VFAT, and NTFS. At the same time, it can be compatible with Windows XP, Windows 7, Windows 8, and other Windows operating systems perfectly.

Flexible Scanning Range

Aiming at different demands, this free partition recovery software provides users with 3 different scanning ranges.

Full Disk: scan the entire disk and scan out partitions from the entire disk.
Unallocated Space: scan unallocated space only and scan out partitions from unallocated space.
Specified Range: scan specified sectors according to actual demands.

2 Different Scanning Methods

2 different scanning methods are provided, and users can choose one of them freely. Different methods have different scanning effect.

Quick Scan: if lost/deleted partitions are continuous, Quick Scan can help recover lost partitions. When program finds a lost/deleted partition, it will jump to the end of the partition and continue scanning other lost/deleted partitions.
Full Scan: Full Scan will scan every sector of the specified scanning range. When Quick Scan fails to find lost partitions, try using Full Scan.

Explore Partition

The free partition recovery software MiniTool Partition Recovery provides users with a function to explore partition content in advance. When program scans out partitions, users can explore partition data via this function so as to find the partition they want to recover more conveniently.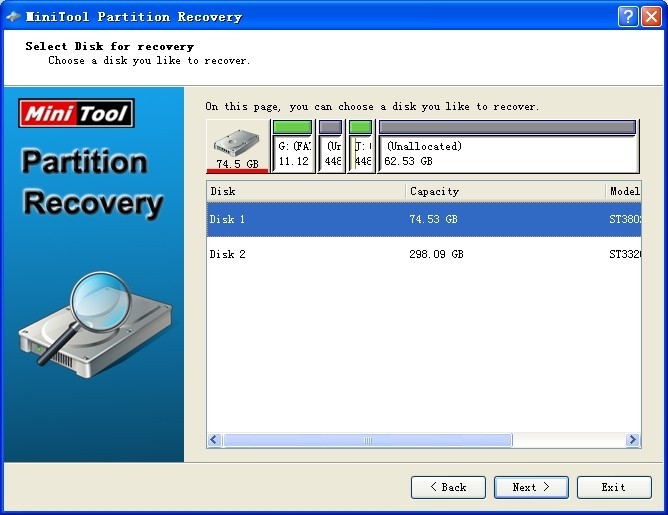 Tweet
Related Softwares